INTERNALS
As part of the Lambeth Housing Standard (LHS) programme  Lambeth Living spent £500 million to improve residents' homes over a 5 year period (2012-2017), Cedars Estate residents received upgrades to their bathrooms, kitchens and rewiring in 2014/15.
At our AGM in August 2014, there was a  presentation on internal works and Mears provided samples for kitchen and bathroom materials.
In 2015 the Cedars Estate benefited from replacement kitchens, bathrooms, electrical rewiring of the tenant's properties, renewal of windows and further roof insulation works.
EXTERNALS / ECO – FUNDING
CETRA and Lambeth worked in partnership with British Gas and Lawtech Limited to save you money by improving the insulation of your home at no cost to you.
Lawtech Limited, one of the UK's largest specialist contractors in partnership with British Gas, was appointed by Lambeth to consult with our residents providing external wall insulation to the estate which would transform the estate and dramatically reduce the cost of heating and other weather related issues around the estate.
In 2015 External wall insulation was fixed to the exterior of all properties keeping your property warmer in winter and cooler in summer, whilst at the same time reducing carbon emissions. The high performance insulation slab was rendered to give protective and decorative coating to the existing façade.
One of the main advantages of external wall insulation is that it reduces your energy use and could save you up to £160.00 a year. It also helps increase the sound resistance and provides a fresh new look to your home.

(Before and after pictures of Lawtech's external wall insulation project in Islington.)
Please find as follows the Cedars estate operation, care and maintenance  manual for the Majorworks that had taken place: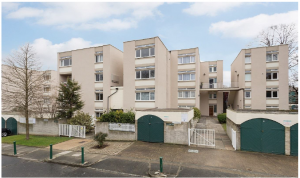 The main categories of the manual include  – External wall insulation (EWI), windows,  front doors and integrated reception systems (IRS).
WINDOWS
CETRA's residents received a  window renewal programme to coincide with the external cladding work.
In addition, a new planning application was submitted seeking approval to allow an increase in the roof insulation.
The proposed improvements to the roof insulation will almost double the existing thickness. This combined with better more efficient windows and the application of external cladding will maximise the benefit of reducing heat loss and reducing energy usage.
Unfortunately, as part of the cladding process, all awnings / hanging baskets were removed and could not be replaced in their original position. Residents wanting to have plants were asked to consider floor mounted plant pots / troughs instead.
Cedars Estate residents also benefited from communal TV system, with each block having just one TV Ariel and satellite dish.
Should you encounter any issues concerning  TV aerial or satellite, please view the following information SSCI – TV fault questionnaire
Give your views by phone, email or letter. We look forward to hearing from you!