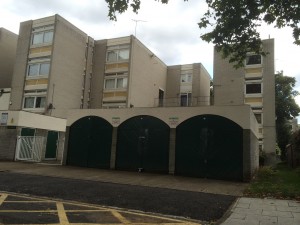 Shed and Garages
Garages and storage sheds are available on the Cedars Estate.
In order to be eligible for either, you will have to be residing on the estate and not have any arrears.
If you fall into arrears with these amenities or with your rent/service charge, CETRA will have the right to take these away from you.
Repairs remain the responsibility of the TMO.  If you need to report a repair please contact the office.
Sheds and garages can only be rented by tenants or resident leaseholders.
If you move from the estate, you will have to return any sheds or garages under your ownership.
Garages
Garages are solely for the purpose of parking a vehicle and the rent is paid directly to Lambeth Council.
The cost for garages has now increased – New costs shown below
Tenants £19.00 pw (£82.33 per month)
Leaseholder £22.50 pw (£97.50 per month)
Non-resident Leaseholders £36.00 pw (£156.00 per month)
. For methods of payment click here.
If you rent a garage, you will be able to park your vehicle in it and you can park a vehicle right in front of it. This will be useful when there are no parking spaces available on the estate road.
If someone is parked in front of your garage without authorisation, they are risking the receipt of a PCN.
Sheds
Each block of flats has 3 storage sheds located in them. These are rented out by CETRA Housing for £3.00 a month.
If you wish to apply for a shed, contact the office to be added to the waiting list. You can apply for additional sheds.
 You can pay for a shed by:
Cheque made payable to CETRA Housing Co-operative Ltd and sent to 27 Cedars Road, London, SW4 0PN
At the bank or via bank transfer
Please ensure you quote your shed reference: SH(enter your shed number). This ensures that your payment is allocated to your shed. If you are unsure of your shed number please contact the office.
It is recommended that you bring your proof of payment to the office and keep it safe.
 payment terms for shed owners:
| | | |
| --- | --- | --- |
| Initial shed key | At time of sign-up | £5.00 |
| Quarterly payments can be made every 3 months | 1st of April, July, October and January | £9.00 |
| Annually | 1st April | £36.00 |
| For owners of multiple sheds, at least one shed must be fully paid for at the beginning of the financial year | 1st April | £36.00 plus £9.00 for the quarter of any additional sheds |
| For replacement keys (including administrative fee) | At time of collection of key | £10.00 |
| For forced entry or lock replacement | To be agreed | £141.50 |